Day 3 – Cassandra O'Leary
On the third day of Christmas my true love sent to me…a whole lot of festive ebooks! And a $50 Amazon gift card giveaway!
Welcome to Day 3 of the 12 Days of Christmas promotion. I'm Cassandra O'Leary, redheaded Melbourne girl, coffee/wine lover and romcom writer extraordinaire (I might have to print that on my business cards).
I'm super excited to be part of this promotion with so many fabulous romance authors from Australia and New Zealand. Jingle my bells!
All the stops on the 12 Days of Christmas promotion are below:
Day 1 – Kris Pearson
Day 2 – Joanne Dannon
Day 3 – Cassandra O'Leary (You Are Here!)
Day 4 – Annie Seaton
Day 5 – Monique McDonell
Day 6 – Kate O'Keeffe
Day 7 – Cathryn Hein
Day 8 – Tracey Alvarez
Day 9 – Leeanna Morgan
Day 10 – Wendy Vella
Day 11 – Charmaine Ross
Day 12 – Aislinn Kearns
Visit them all and you'll have the chance to win books and you can also enter the $50 Amazon gift card giveaway.
** This giveaway is now closed and winners have been contacted.**
Heart Note: A Christmas romcom novella
I have a new release romantic comedy novella, Heart Note, to tell you about today. It's a little bit festive, a little bit naughty and a little bit nice. It's getting some great reviews so far.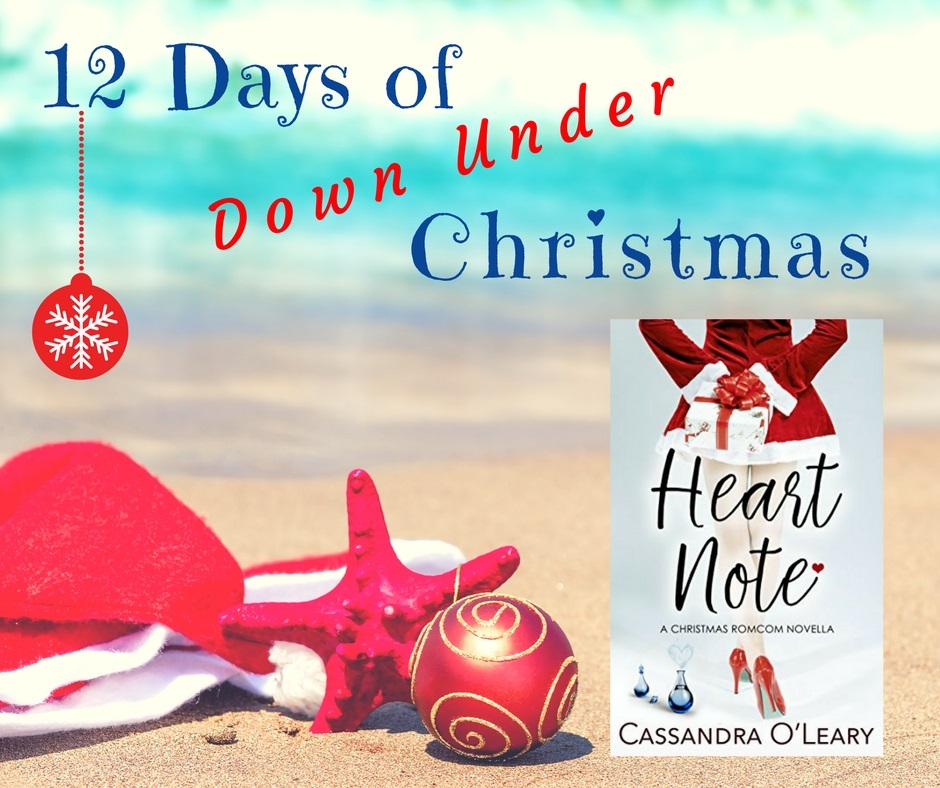 Heart Note is set in the world of a perfume counter at a department store in the lead-up to Christmas, there's hijinks and baubles, plenty of sexy Santa costumes and a smouldering hot Greek-Australian god (okay, a security guard/ex-cop, but he's got that Zeus-like thing going on).
This novella has been rocking the charts since its release on 6 November, hitting the top 50 Humour Fiction bestseller list on Amazon Australia, and the New and Hot Releases Humor Fiction lists on Amazon US, UK and France!
Blurb
A laugh-out-loud romantic comedy Christmas novella, perfect for fans of Love Actually . . . from the award-winning author of Girl on a Plane.
Love is like a fine perfume. The top note draws you in, an instant attraction, but the Heart Note is the true essence. Like true love – a great perfume should be a woman's perfect match.
At least, that's what perfume counter manager, Lily Lucas, tells her customers in one of Australia's largest department stores.
It's almost Christmas, the store is bedecked with baubles and Lily has about eleventy billion gifts to wrap and sell. She and her team of spritzer chicks are glamorous, professional and hoping they don't have to wear the hideous red onesies and reindeer antlers the store manager has in mind.
The high point of Lily's work life is Christos Cyriakos, ex-cop, security guard, possible Greek god. He's a mystery box she'd love to unwrap. But can she trust him?
All Lily wants for Christmas is to kiss Christos (and more), catch a band of thieves running amok in the store, and live happily ever after. Is that too much to wish for?
Buy now from Amazon, iBooks, Kobo, Barnes & Noble (Nook), Google Play Books and more stores.
Universal link to all stores – books2read.com/HeartNote
Giveaways
** My giveaway is now closed. I have drawn two winners and contacted them by email — Karen Teasdale and Jill Broussard — check your inboxes!**
Because it's nearly Christmas and I'm feeling generous and stuff, I'm running a giveaway!
I'm giving away:
1 x ebook copy of

Heart Note

AND

1 x ebook copy of

Girl on a Plane

(my debut HarperCollins UK romantic comedy/contemporary romance novel).
I'll select a winner for each prize and contact them individually on or just after 13 December 2017.
To enter:
Sign-up for my newsletter list by completing the form on this website and leave a comment on this blog post. If you're already on my newsletter list, just comment!
Tell me…have you been naughty or nice and what do you want for Christmas? COMMENT BELOW!
Enter the Rafflecopter giveaway to win a $50 Amazon gift card