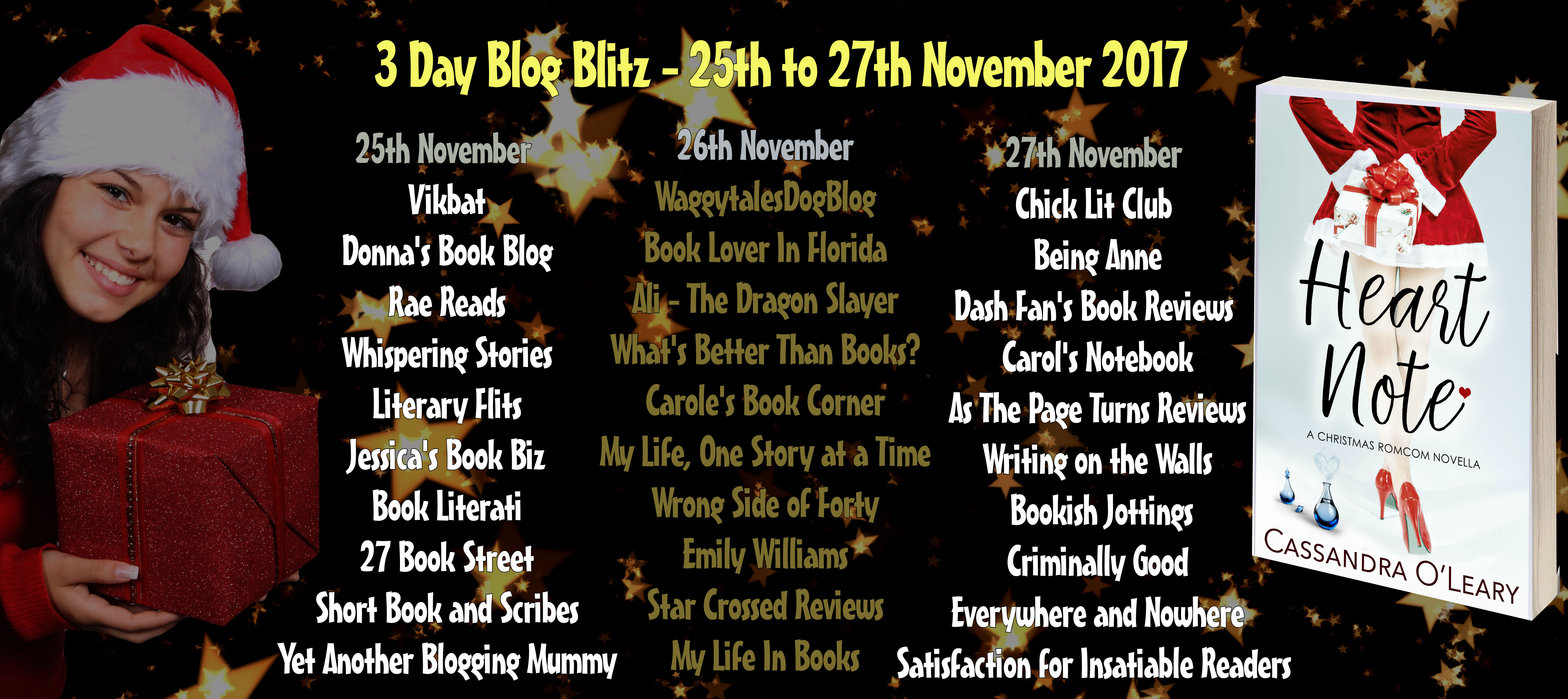 It's almost the festive season and this weekend my new release, Heart Note, is having a party! Well, sort of. It's a Blog Blitz and everyone is invited.
From 25 to 27 November 2017 a whole host of bloggers are playing home to my Christmas romcom novella and lots of blogs about perfume, Christmas, romantic comedies, working as a 'spritzer chick' on a perfume counter and much more. There's also a giveaway so make sure to check out the blogs to enter.
Thanks so much to the fabulous Rachel's Random Resources for organising my Blog Blitz!
Visit the Blog Blitz stops
25 November
26 November
Random Things Through My Letterbox
27 November
Satisfaction for Insatiable Readers
And now just a little note about Heart Note! I enjoyed writing a novella which is a fast-paced romcom with a little heist sub-plot and a great big dash of Christmas festiveness mixed in.
I hope you'll love the main characters, Lily and Christos, as much as I do and cheer them on towards their happy ending.
Heart Note – blurb
A funny, romantic comedy Christmas novella, perfect for fans of Love Actually . . . from the award-winning author of Girl on a Plane.
Love is like a fine perfume. The top note draws you in, an instant attraction, but the Heart Note is the true essence. Like true love – a great perfume should be a woman's perfect match.
At least, that's what perfume counter manager, Lily Lucas, tells her customers in one of Australia's largest department stores.
It's almost Christmas, the store is bedecked with baubles and Lily has about eleventy billion gifts to wrap and sell. She and her team of spritzer chicks are glamorous, professional and hoping they don't have to wear the hideous red onesies and reindeer antlers the store manager has in mind.
The high point of Lily's work life is Christos Cyriakos, ex-cop, security guard, possible Greek god. He's a mystery box she'd love to unwrap. But can she trust him?
All Lily wants for Christmas is to kiss Christos (and more), catch a band of thieves running amok in the store, and live happily ever after. Is that too much to wish for?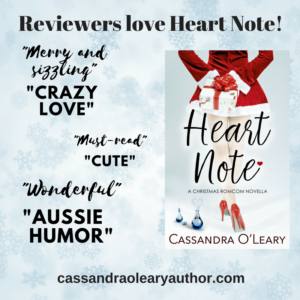 Buy Links
Barnes & Noble (Nook)
Universal link – books2read.com/HeartNote
You can also sign-up for my author newsletter for a free novelette, updates on my writing,
giveaways and lots of fun stuff!