Valentine's Day 2018 Event – Sweet Treats & Yummy Reads



Are you excited about Valentine's Day? The authors at Chick Lit Chat HQ are, and we know quite a bit about romance, not to mention gorgeous guys and swoon-worthy storylines, which is why we've put together a fun-filled event that celebrates all these wonderful things.
That's right, book lovers, it's time for the Sweet Treats & Yummy Reads Hop! Starting February 12th, 40+ Chick Lit and RomCom authors will be throwing a fabulous, Valentine-themed bash on Facebook and each of them will be offering a GIVEAWAY–books, gift cards, author swag, and lots of other wonderful prizes will be up for grabs!
But wait, there's more! You know we have the "yummy reads" covered (this group is nothing if not crazy talented), but what about the "sweet treats?" Hold on to your hats, peeps, because CLC HQ has outdone itself this time. We'll be giving away not one, not two, but THREE Grand Prizes for this hop and each of those lucky winners will receive a 6-pack of Wicked Good Cupcakes!* And the best news of all? You get to choose your own sinfully delicious flavors. (Commence happy dance now.)
So, what are you waiting for? Head on over to the Sweet Treats & Yummy Reads Hop on Facebook and join the group page where you can meet and chat with fellow readers, as well as some of the most popular authors in your favorite genres, plus find the lists of participating authors and enter to win one of the Grand Prizes. We look forward to seeing you there!
Tree Love new release celebration prize!
My giveaway** prize for this event includes the following:
One ebook copy of my new release short story, Tree Love
Lightweight cotton scarf in charcoal colour with little gold hearts printed on it
A gold-tone triple strand necklace with a heart pendant
Black metallic heart-shaped jewel box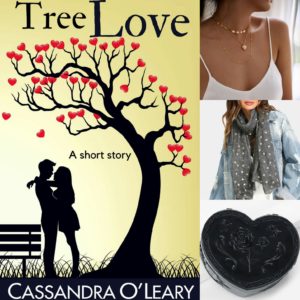 I might also throw in some delicious heart-shaped, Italian-made Girl on a Plane chocolates wrapped in red foil. Because yum!
Tree Love is releasing widely on major ebook retail sites on 13 February for only 99c or 99p. The universal link to all retailers is here – books2read.com/TreeLove
This story is a tale of first loves reunited, email to trees (no joke — based on a true story too, of email addresses assigned to trees in public parks and people writing them love letters), an artist heroine and urban lumberjack hero. It's set in and around the beautiful botanic gardens in my home city of Melbourne, Australia. All the fun and swooniness ensue!
My question for anyone wanting to enter my giveaway is:
If your first love fell out of a tree, would you catch him (or her)?
I ended up marrying my first love, so I guess I'd catch him and not let him drop on his head or fall to his death! Hehe, what was I saying? Oh yes, my lovely husband is an absolute sweetheart. We've been together for many years and he's a keeper. 🙂
Comment on the giveaway post on my Facebook author page for your chance to win. I'll choose a winner on 16 February (Aussie time). This may be 15 February where you live).
P.S. You can also sign-up to my email newsletter to keep up-to-date with my writing, giveaways and to receive a free copy of my sexy romcom novelette, Chocolate Truffle Kiss. Just complete the form on my Contact page. 
*Wicked Good Cupcakes only ships to destinations in the United States, so the Grand Prize portion of this hop will not be open to international entrants. However, the 40+ individual author giveaways will be open internationally.
**My giveaway is open internationally but is not sponsored by or endorsed by Facebook.