Join in the merry fun right here…
Hello! I'm joining the Holly Jolly Chick Lit Hop from Melbourne, Australia!
I'm Cassandra O'Leary and I live in Melbourne, Australia, in the bayside area. I live with my spunk of a husband and two mini ninjas, Mr 8 and Mr 6. I write romantic comedies, contemporary romance and women's fiction. You'll find me dreaming of Italy and Spain, drinking coffee, buying shoes on the internet and oh yes, writing!
For international readers, Melbourne is a city of about 4 million people, down south on the continent of Oz, multicultural and amazing, with gorgeous parks and beaches. It's been voted the world's most liveable city over and over again. Are you jealous yet? Truth be told, I love to travel and I'd probably like to swap places with most of you and visit where-ever you live in the world.
A little about my writing… I love to write stories about women with real-life issues but who face life with both bravery and humour, and of course I adore a handsome, caring hero. So far I've released one full-length novel — my award-winning debut with HarperCollins UK in 2016, Girl on a Plane, a contemporary romance/romantic comedy about a sassy Irish flight attendant and the smouldering hot Aussie CEO she meets in first class.
I've released short fiction in anthologies including Chocolate Truffle Kiss, a fun and sexy novelette that's currently free for my newsletter subscribers.
My new release is a festive romcom novella that's out now in time for Christmas… Heart Note.
About Heart Note
Heart Note is the first book in my planned Spritzer Chicks series set in and around a perfume counter in a large department store. Yes, I was a 'spritzer chick' or perfume promotions girl many years ago, then I also worked on cosmetics counters as a beauty advisor and sales assistant for several years.
I've drawn on some of my real-life experiences of working retail, but I've added fictional hijinks plus a big dash of humour and romance. Lily the sassy redhead perfume counter manager *may be* similar to me in some ways! But I never fell in love with a smokin' hot Greek-Australian security guard on the job…
I'm now working on another novella in the Spritzer Chicks series, to be titled Cupid's Bow. And I'm working on a couple more novels to (hopefully) complete next year too.
Check out my Books page for details and buy links.
A Holly Jolly giveaway from moi!
As part of this awesomesauce event, I'm offering a very nice giveaway prize/gift that I'd really like to keep for myself! It includes a perfume miniature to match the perfume theme in Heart Note.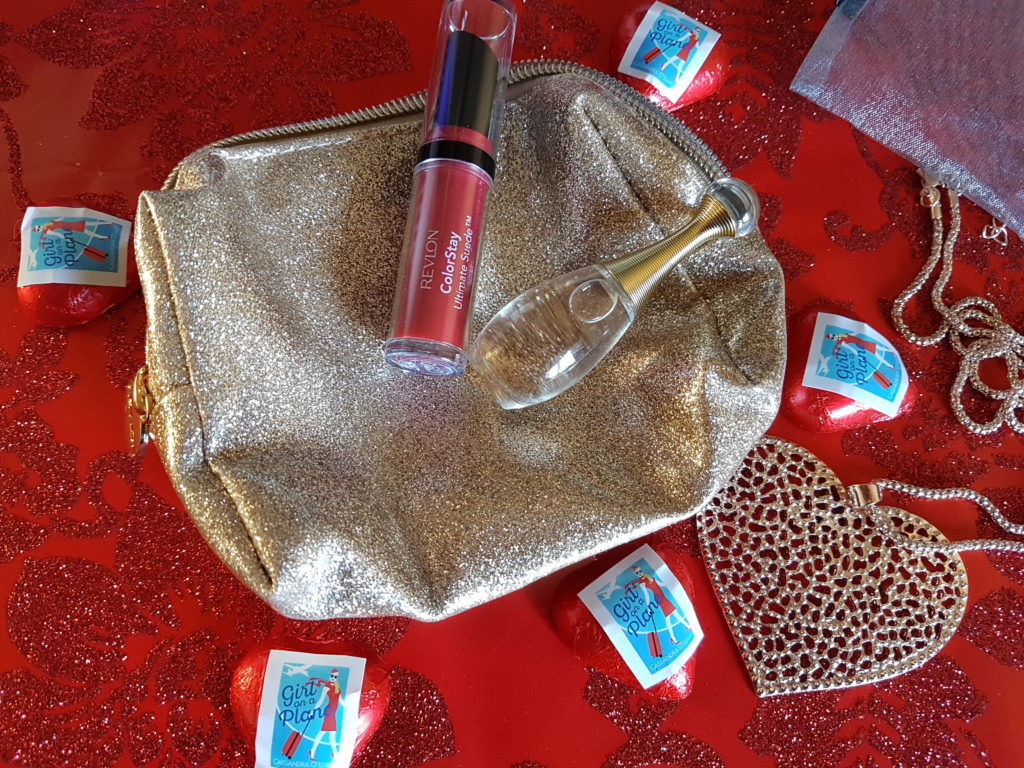 The Prize:
Heart Note ebook download x 1 copy
Miniature 4ml bottle of J'Adore eau de toilette by Christian Dior
Revlon Colorstay Ultimate Suede lipstick in Couture (Christmassy bright red shade)
Gold sparkly fabric make-up purse
Heart pendant in rose-gold tone metal & matching chain
A signed postcard
Girl on a Plane heart-shaped chocolates!
How to enter:
**This giveaway is now closed. Congratulations to my randomly selected winner, Christi Green. I have emailed Christi about how to claim her prize. Happy holidays everyone!**
Sign-up for my author newsletter — complete the form on this website with your name and email address.
Comment on my Facebook page (see the pinned post) or on this blog post with the name of your favourite perfume or other scent, like jasmine flowers.
I'll pick a winner and contact them by email after the close of the Holly Jolly Chick Lit Hop, around 15 December or just afterwards. The winner's name will be published on my Facebook page and they will need to supply their postal address to receive their prize (postal address won't be published).
Grand prize giveaway
Make sure to enter the main giveaway for this event by visiting the Holly Jolly Chick Lit Hop Facebook group. Check out the giveaways on all the author pages and follow the directions to enter the Grand Prize giveaway of 3 x $100 Amazon gift cards!
Note: This giveaway is not sponsored by or otherwise associated with Facebook.